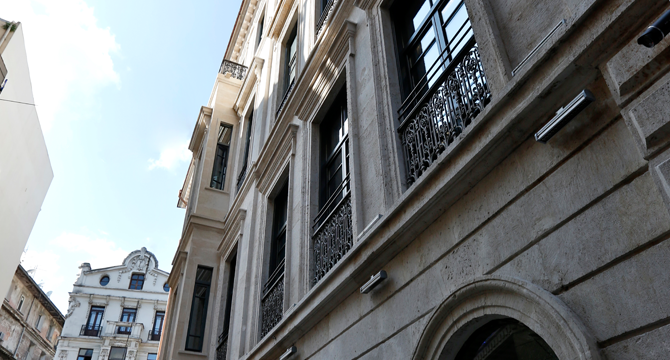 Istanbul, an utterly different historical city where you can experience the dynamism of business life and the enchantment of art in full.
While staying in our authentic 52 high-ceiled rooms which were designed specially and fully equipped with the latest technology for those travellers who are passionate about history and cultural studies, who come over for business or touristic purposes to explore Istanbul, who are fond of art, fun and nightlife, The Public Hotel will give you some of the most memorable moments of your life.
As a result of our innovative cuisine culture, we spiritedly and proudly offer various and select tastes of contemporary European cuisine and the world's best cuisines with a distinctive presentation and service conception for our guests who comply with the principles of healthy nutrition, who are on diet or diet therapy, or who fancy to experience different tastes from exclusive cuisines all the time.
We have leagued together to indulge our dear guests with sympathy, close interest and top quality service by offering the perfection via our highly educated and cheerful personnel.
The Public Hotel is located in the very heart of Istanbul's most popular and dynamical boulevard, Istiklal Avenue where inholds matchless cultural richnesses, an ever-vibrant nightlife, colorful and numerous alternatives of recreation and entertainment.
In the neighbourhood, there are lots of historical places, countless shopping options, many restaurants addressing different tastes and the optimum ambience to go for a walk. All these alternatives and so forth receive you with open arms to go into a new day from probably the best starting point of the city.
For our guests who aspire to relieve the tiredness of the day and move away from the density and the loudness of the city, The Public has a specially landscaped courtyard where you can relax or enjoy reading while sipping your drinks with the pleasure of the hotel's splendid custom-production fragrance in the midst of embellishing live plants under the ravishing sky and the bright lights of the sun at all hours of the day, or else relish your authentic and sophisticated suite.
The Public Hotel adopts the globally known 3R (Recycle, Reuse, Reduce) principle that many of the world's most reputable accomodation facilities follow. By this means we save on energy, water and paper products consumption.
In this context, there are 100% natural cosmetic products, hotel guest amenities and printed materials made of recycable wrappages, water-saving special design high-tech faucets, energy smart LED lights, hanging lights and bunk lamps, heat insulated and high level fire-resistant solid wood parquet, window casings, doors, terrazzo tiled corridor floors and thermoduric curtains in use at the Public Hotel.
By the way…
You can purchase all the special design hotel amenities, cosmetics, fragrances and miscellaneous products with hotel logo from the Lobby Shop and share your memories with your beloved ones by such surprise gifts.